The Story of Duffy Day

A little white Maltese who would be named Duffy Day was destined to be one of the millions of dogs euthanized each year. Many animals are not considered good candidates for adoption because of behavioral or medical problems, and Duffy had both. It was through the efforts of an Omaha veterinarian, a friend of Doris Day's, that Duffy was rescued and given a new lease on life.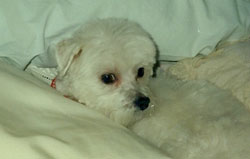 Duffy Day
The veterinarian treated Duffy's medical problems and took him home where he was given the loving care that had been missing from his life. It took several months for him to adjust to this new environment, but surrounded by a caring family, including two other Maltese dogs, Duffy came out of his shell and began to accept the loving care that he so deserved. The veterinarian knew all along that if Duffy responded to his new environment, he would place this little white angel with his friend Doris Day, who had recently lost a little white dog of her own. Doris welcomed Duffy (the name she bestowed on him) into her home and her heart where he flourished and bonded with her and the warm, loving household that welcomed so many animals just like him. So Duffy Day went from being an abandoned, mistreated and abused ragamuffin to residing in one of the most loving, caring homes in the world.
Millions of dogs in the United States aren't as lucky as Duffy Day. Treating their special needs -- whether they are medical, behavioral or social -- requires a commitment of time and resources far surpassing what most humane societies can currently afford. Unfortunately, these animals often don't get the second chance at a happy life they so richly deserve. This must change, and so Doris founded The Duffy Day Lifesaving Program in her new little friend's honor. Doris believes strongly that we need to save these animals' lives. And that we need to do better for "special needs" homeless animals, those like Duffy.
It is through the generosity of the Doris Day Animal Foundation that The Duffy Day Lifesaving Program was founded. A program dedicated to directing more of our attention to saving senior animals that need medications for the rest of their lives ... the 6-year-old terrier that limps and has diabetes ... the frantic little Border Collie who is scared of her own shadow. We want to give these, and hundreds of other hard-to-place dogs and cats, the second chance they deserve. We want to see more happy endings like Duffy's.
Please support Duffy's program. You can make a donation in Duffy's honor at the Doris Day Animal Foundation.