Doris' Angel
It was a Saturday afternoon and, as she frequently does, Doris was perusing the adopt-a-pet section of the local newspaper when a photo of a little, black kitty caught her eye. As she read the article Doris became more and more intrigued with this kitty called Angel. She was 12-years-old and had been placed with a local cat rescue organization because her owner had passed away and there was no one who could care for her.
Doris has rescued many cats over the years, but after many had lived long, cared-for lives and passed on,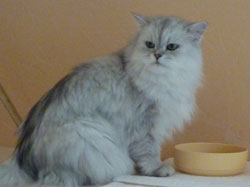 Doris found herself down to only one cat, a Maine Coon called Roller. Doris had been thinking Roller needed a companion, and it seemed this little girl might just fit the bill. She asked a staff member to call the rescue organization, but unfortunately it was closed over the weekend. She would have to wait until Monday to find out about Angel.
On Monday, Doris asked her staff member to visit the rescue group, and when the staffer arrived, she found out that Angel was actually a long-haired, silver Persian! She knew Doris would want the kitty regardless, black or silver or blue! When the two arrived home, was Doris ever surprised. Angel didn't look anything like the cat in the newspaper photo: Her coat was a gorgeous silver, and she had beautiful, green eyes. Angel then made a trip to the local veterinarian for a complete check-up, and when she was found to be perfectly healthy, she was introduced to Roller -- but very carefully.
No one knew how Roller, the sole male cat of the household, might react. At first sight of Angel, he hissed and spat a bit, but he was more bluster than bite. Doris kept the two cats separate for a couple of days and then it happened: They became friends. Today they share a wonderful, special cat room and enclosed atrium with outdoor views at Doris' home where they can exercise and explore. Angel is now a full-fledged member of the Doris Day household, another of her many rescues who've finally found a forever home.