February 29, 2016
What Singers Can Learn from Doris Day
Mister Tim Voice Council Magazine | Link to Article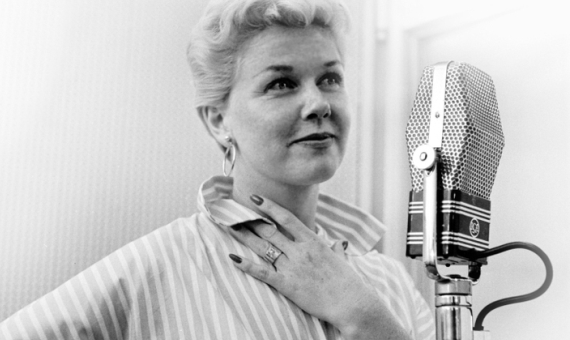 An outstanding dancer, singer, and actress, Doris Day was one of the most popular entertainers in the 1950's and 60's.
She began her career as a big band singer in 1939 and went on to be the biggest female box office star for 2 decades.
She released more than 600 recordings and starred in a sitcom that ran for 5 years.
Her singing is clear, direct, sweet, and full of happy energy.
Her clean-cut sweetness earned her criticism in the 60's and 70's as those things fell out of fashion, but I find these attributes refreshing compared to the overwrought and oversung nature of modern female vocals.
Consider This:
Some things to consider about Day's singing: it sounds effortless, but she is an excellent technical singer.
Her breath control, her diction, her dynamic control are all flawless. Is that not what we all strive for as students of voice?
To be so trained in the fundamentals that we don't have to think about them, that we can just let go and express the music?
She had a masterful command of the different colors in her voice. She could sing light or strong in any part of her range.
She constantly varied her delivery to tell wonderful stories. She sang every song as if she cared deeply about what she was singing. It's no wonder she was such a revered actress.
Sentimental Journey (1945)
Day's first major hit became a sort of theme song for American troops waiting to return from theaters of war. It astounds me how she can sound simultaneously joyful and melancholy.
Put Em in a Box (1948)
From her first starring film role, "Romance on the High Seas" (1948). Her singing is completely conversational and effortless. Listen to how she sings "put 'em in a box" slightly different each time (0:44, 0:59, 1:29, 1:51, 2:40). The happiest anti-love song you'll ever hear.
Everybody Loves a Lover (1958)
A seemingly simple song, but listen to how many vocal colors she explores throughout the song. Light and easy (first verse), stronger and belty (0:55), playful with a silly voice (1:17 + 1:45). She's constantly changing. It's like she is discovering and exploring the song for the first time along with us.
Sunshine Medley (1975) with John Denver
The tastiest of cheese! From a Doris Day television special (young singers should know that these kinds of shows were very common back in the day, and thanks to YouTube you can watch many of them). Day was more than 50 years old and still moving and singing with all kinds of pep. I never get tired of the way she closes her 'n's and 'l's (see 1:03). Also a great example of her versatility, each song getting it's own vocal treatment.
Mister Tim www.mistertimdotcom.com is a published composer, award-winning recording artist, and in-demand performer, teacher & performance coach. In addition to an active performing and touring schedule with his solo vocal live-looping/beatbox shows, Mister Tim sings with Boulder, CO-based Celtic Rock band Delilah's Revenge, manages the… Read More