February 2, 2012
Welcome to Doris Day Drive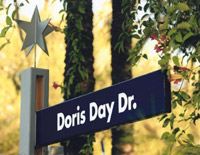 This year marks the 100th anniversary of Universal Studios, home of the Doris Day/Rock Hudson comedies and several of Doris' other films in the '60s. To commemorate its centennial, Universal planned a slate of events and projects throughout the year, among them the restoration and reissue of some of the studio's classic films, including "Pillow Talk," and a more historical focus on the tram tour attraction at Universal Studios Hollywood.
This is great news for Doris Day's fans, as well as classic film buffs. Although the "Psycho" house has been a mainstay of the tram tour through the years, Colonial Street and the "Send Me No Flowers" and "The Thrill of It All" houses have become part of Wisteria Lane for "Desperate Housewives," and all references to Doris Day film sites on the back lot have given way to tidbits about Universal's more recent releases. Now, Ron Meyer, Universal Studio's President and COO, is hoping that the centennial will "reintroduce our audience to films they wouldn't know. Our centennial is designed to bring special memories back to longtime movie lovers and fans, and to engage new audiences with our extraordinary library of films for the first time."
Today, one of the kickoff events was Universal Studios Street Celebration, honoring 11 of the studio's biggest names with their own streets on the Universal Hollywood lot. Honorees included Lon Chaney, Tony Curtis, Doris Day, Kirk Douglas, W.C. Fields, Janet Leigh, Donald O'Connor, Gregory Peck, Animator/Producer Jay Ward, and composers John Williams and Stanley Wilson. In a nod to Universal's current association with NBC, Johnny Carson and Bob Hope also had streets named for them.
The celebration was casual, private and intimate, open only to the honorees and their immediate families/friends. Doris was represented by long-time pals, Lea and Jay Price and Mary Clark. After checking in under their respective honoree family names, attendees, including Kirk and Anne Douglas, John Williams and Steven Spielberg (who already had his own street on the lot thanks to his long association with the studio through his Amblin production company that's been headquartered there for decades), piled into assigned "Family" vans or golf carts with their drivers for a tour of their respective streets.
A reception followed, hosted by Ron Meyer, who abandoned his prepared notes and instead spoke from the heart, reiterating his commitment to focusing on Universal's rich history. Jeff Pirtle, NBCUniversal's Director of Archives and Collections, then spoke about each honoree's connection and contributions to Universal Studios. (Did you know that Doris was Honorary Mayor of Universal City in 1961?) Before the afternoon was over, the guests got to know each other, introducing themselves by family name and exchanging praises and fond memories about the honorees.
If you're in the Los Angeles area, be sure to visit Universal Studios, and check out Doris Day Drive. It starts just before the entrance to Universal CityWalk, right off the main Universal Studios Blvd., coming from Cahuenga Blvd. It leads to Preferred Parking and winds around the studio's park/baseball field (recent film site for "Cowboys and Aliens"), where it intersects with Donald O'Connor Drive.