October 25, 2021
2022 Doris Day Fan Calendar Available Now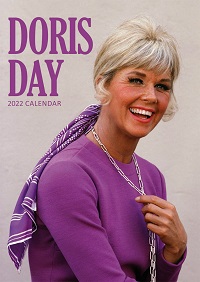 The fan website DorisDayTribute.com announced the availability of their latest tribute calendar, which commemorates what would have been Doris Day's 100th year. The wall calendar is professionally printed in Great Britain in small numbers. Be sure to order now as they sell-out fast! As always, proceeds from the sale of this keepsake benefit the organization closest to Doris's heart: the Doris Day Animal Foundation.
Stephen, founder of DorisDayTribute.com, explains, "We have been working very hard to make another magical calendar packed full of rare and beautiful photos of America's forever favourite Girl Next Door. As 2022 is a special anniversary year we have made our latest offering a Special Edition with a tribute article written by acclaimed author Tom Santopietro and a full-page image of Doris which you can display long after the year has ended. So let's take a lovely 'Sentimental Journey' with Doris!"
Click here to order the 2022 calendar.
For more information about the calendar project please contact the Doris Day fan website directly at calendar@dorisdaytribute.com.