August 7, 2013
A Rose by Any Other Name ...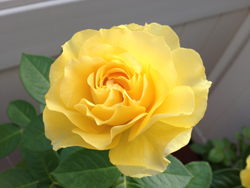 We're delighted to announce the very first, official "Doris Day" rose will be available beginning January 2014. Developed by California-based Weeks Roses with Doris' approval, this Hybrid Floribunda rose is a true yellow, Doris' absolute favorite color. Doris has a few of the early examples of this gorgeous rose in her own garden, and she reports they are growing vigorously and have been in continuous bloom this spring and early summer.
Please look for the "Doris Day" rose at your local nursery or contact Weeks Roses for distributors beginning January 2014.