November 12, 2013
2014 Doris Day Fan Calendar Available Now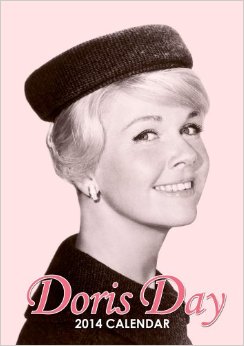 Doris Day celebrates her 90th birthday in 2014, and to mark this milestone the team at the 'Discovering Doris' fan website have made their latest calendar a 'Special Edition' containing these extras: photo captions from Doris; a delightful tribute from the acclaimed American author Tom Santopietro; and a full-page color photograph of Doris, which can be displayed long after the calendar year has finished. As always, proceeds from the sale of this keepsake benefit the organization closest to Doris's heart: the Doris Day Animal Foundation.
Stephen, founder of 'Discovering Doris' explains, "It's amazing to think this is the seventh year we've been publishing a Doris Day calendar. Although we only print the calendar on a limited run, our annual projects have now raised more than $19,000 U.S. for DDAF. As an animal lover myself, it's a thrill to help such a worthwhile organization. Please help spread the word about our latest calendar as it will make a great gift for the holiday season!"
The 2014 calendar can only be ordered directly from www.dorisdaytribute.com.
Please note: The cover sleeve and all of the calendar month images were personally approved by Doris Day. They were professionally scanned from original photographic prints, transparencies or negatives and lovingly restored by top British photographic specialist, Metro Imaging. For more information about the calendar project please contact sales@dorisdaytribute.com.